Made in Yorkshire Awards 2019
Article Published -
1/2/2019
Our parent company, Jepson & Co, have been shortlisted for the 'Manufacturing Innovation' award for creating 1894 Sign Co.
As you may know, 1894 Sign Co. is part of a bigger family.
Established in 1894, Jepson & Co Ltd is the oldest number plate manufacturer in the world. It remains a family-run business to this day and is based in Sheffield, South Yorkshire.
We're delighted that Jepson & Co have recently been acknowledged and shortlisted for the Made in Yorkshire 'Manufacturing Innovation' award for creating 1894 Sign Co.
In late 2016, 1894 Sign Co. was created and has since become an established brand in its own right. Stepping out of the automotive industry, the company now supply a unique signage range, inspired by vintage and classic number plates, to suppliers all over the country.
1894 Sign Co. has dramatically grown and evolved over the last two years, and after a recent appearance at Top Drawer in London, we have expanded even more, geographically. The trade show was a huge success and an incredible opportunity to share our story, welcome new suppliers and catch up with existing suppliers too. Our favourite comment received at Top Drawer has to be from Tim at Bluebell 33 who said, "I genuinely believe yours is the best new product I've seen at a trade show for many years. Brilliantly made, uniquely British and super creative." We'll take that!
We are honoured to be part of this exciting achievement and would like to thank you, our suppliers, for all your support. We wouldn't be here without you.
Winners will be announced on Thursday 7th March. Keep your fingers crossed!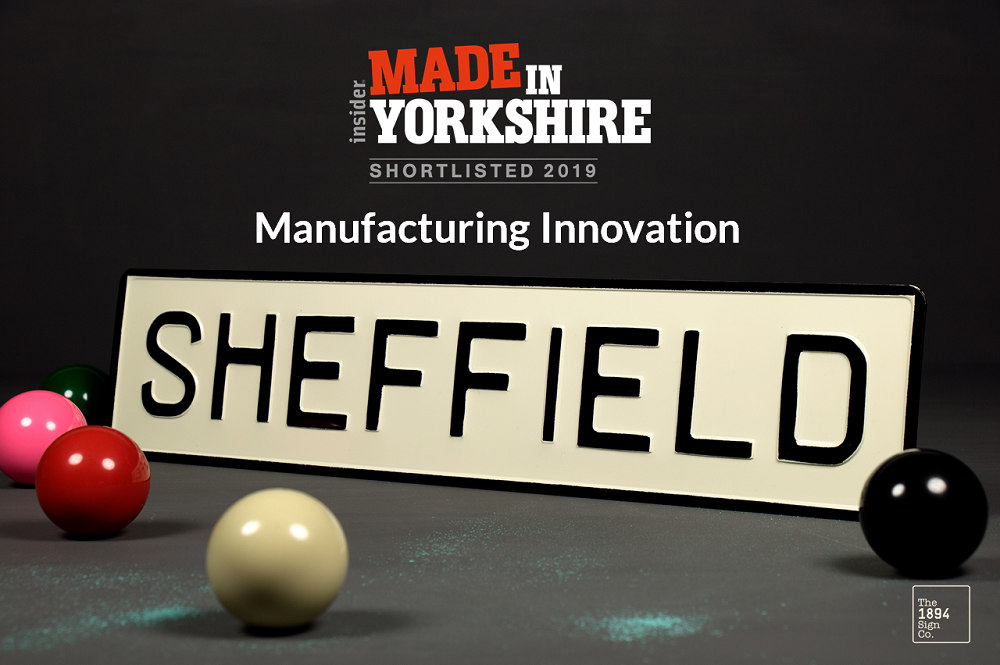 Image: Sheffield (20 3/4 x 4 1/2" with border) Kelham Cream background with Crucible Black 2 1/2" digits