Our 2018 Highlights
Article Published -
21/12/2018
As 2018 draws to a close, we at 1894 Sign Co feel it necessary to look back at the incredible year we've had! We have a fresh new look, a swish new website but most importantly, continuous support and loyalty from our suppliers that got us to where we are today.
The Jepson family
As you may know, 1894 Sign Co is part of the Jepson family. Our signage range is inspired by vintage and classic number plates, and all handmade in Sheffield, South Yorkshire. Established in 1894, Jepson & Co remains a family run business to this day and continues to expand. We're extremely proud to be a growing part of the family!
Colour range
We introduced a brand-new colour to start the year off in style! 'Ennis Gold,' aptly named after Sheffield Olympic champion, Jessica Ennis-Hill, was introduced in January 2018. Due to popular demand from our suppliers, we just had to add this to our colour range! It fits into our range beautifully and works particularly well with 'Arctic White,' 'Kelham Cream' and 'Ey Up Duck Egg.'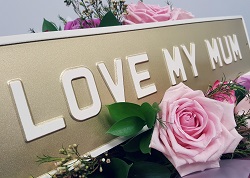 Adapting our colour range to suit popular industry trends is important to us, so we can ensure you're always in fashion and bang on trend!
Launching our website
In April 2018, we launched our new website, complete with a brand-new look, that supports our suppliers nationwide. By entering a postcode into our 'Find a Supplier' map, it will display all the local suppliers in the area, along with their contact details, website and social media links and even directions on how to get to their store!
Providing this online service points the general public in the right direction and gets more people through our suppliers' doors. Supporting small and independent businesses is important to us, which is why we don't sell directly to the public. Our suppliers stock all kinds of different products and we're proud that we're among them.
Working closely with our suppliers
We have a track record of continuous improvement and we are proud of our heritage, hence the name '1894 Sign Co.' Our signs are made using digits dies, some of which are over 80 years old! We listened to our suppliers this year and introduced two brand new dies to press a heart and star shape into raw aluminium, and they've proved to be a hit!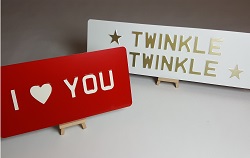 Building relationships and working closely with our suppliers is essential for us to expand our product range and introduce new ideas to different markets around the country.
Trade shows
Ahh, we love a good trade show! This year, we exhibited at British Craft Trade Fair in Harrogate for a second year running. Thank you to everyone who visited us there and gave us some lovely comments. It's always great to see you, hear your stories and have a few laughs too!
We also made an appearance at the Classic Motor Show in Birmingham, alongside our sister company, Framptons. Trade shows are a fantastic opportunity to see some familiar faces and meet new ones too. We thoroughly enjoy getting out there and it wouldn't be as fun if it wasn't for you.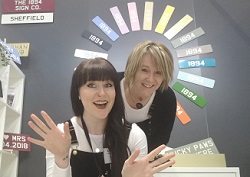 What's next?
Well, a new year will see new products! We're currently trialling and testing several different ideas to bring our suppliers more variety when it comes to indoor and outdoor signage. We pride ourselves on offering a no minimum order quantity as everything we do is personalised, and nothing will change there! Keep a look out for our email campaigns and social media posts for more details in the new year.
There's no rest for the wicked, as we'll be heading down to London for Top Drawer at the beginning of January to introduce our products to the southern end of the country! This will be our first time exhibiting in London. We're extremely excited and can't wait to get on the road!
We'll also be making our third appearance at the British Craft Trade Fair in Harrogate during April. This is a highlight in our calendar and we always look forward to it.
Let us know if you'll be attending Top Drawer and/or British Craft Trade Fair.
Thank you!
Looking back, we're extremely grateful for what we have achieved. The brand has evolved rapidly in the two years it's been running, and we're extremely excited to see where it takes us next. Without you, none of this would have been possible. Thank you for your business and support, it means a lot to us. You are incredible!
May we take this opportunity to wish you and your family a very Merry Christmas and a happy, healthy and prosperous New Year!
Bring on 2019!